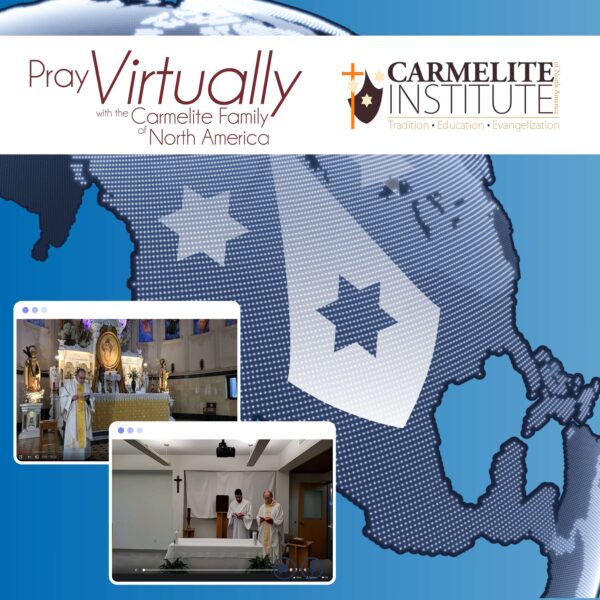 Pray "Virtually" with the Carmelites
During this time of pandemic we know that many are not able to attend public liturgies but are eager to participate "virtually." Moreover, many people know of Carmel's dedication to prayer and would like to be able to "pray with the Carmelites." Accordingly, we would like to bring together, on the website of the Carmelite Institute, a series of links to all of the English-speaking Carmelite communities that are currently "live-streaming" their Masses, Liturgy of the Hours, or other community prayers.
Whitefriars Hall, Washington, D.C.
Whitefriars Hall has established a Facebook page and are now streaming the community liturgies.  They combine Morning Prayer (part of the Liturgy of the Hours) with the Eucharist and invite you to join them.
https://www.facebook.com/whitefriarshalldc/
---
Holy Hill-Basilica & National Shrine of Mary Help of Christians, Wisconsin
Here is a link to the main page for Holy Hill, where you can find links to live-streaming of Mass, the rosary, and adoration.
---
Little Flower Basilica, San Antonio, TX
There are links to streaming on FaceBook and YouTube — both Mass and Liturgy of the Hours.
https://littleflowerbasilica.org/
---
Baltimore Carmel, Maryland
Here's the calendar of the , where you can join their Lectio Divina and Liturgy of the Hours by Zoom.
https://www.baltimorecarmel.org/events/category/main-calendar/
---
Sacred Heart Retreat House in Alhambra, CA – Carmelite Sisters
Here are ways you can continue a deeper prayer life for yourself and to encourage others during this time of crisis.
Registration is now open for the upcoming virtual weekend retreats:
---
Carmelite Sisters of the Most Sacred Heart of Los Angeles, CA
Live-streaming daily Mass, Lauds, Vespers and Holy Hour from their facebook page.
---
The National Shrine of Our Lady Of Mount Carmel – Middletown NY
May Crowning of Mary – May 2, 11:00 am
---
St. Therese Church, Alhambra, Ca
Livestream Masses.
http://www.sttheresechurchalhambra.org/?DivisionID=24350
---
National Shrine of St. Therese – Darien, IL
Daily Mass.
https://www.facebook.com/StThereseShrine/
---
Please check back. Links are added as we receive them.