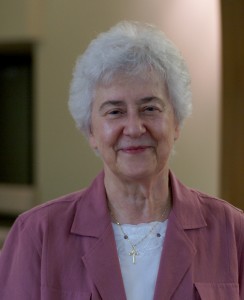 Constance FitzGerald, OCD, is a contemplative theologian and a member of the Carmelite Community in Baltimore where she has served as prioress, formation director, archivist/historian and treasurer.  She was a founder of the Association of Contemplative Sisters in the U.S. (1969) and a founding member of the Carmelite Forum (1982-2013), a group of scholars dedicated to opening contemplative prayer and life to people through the contemporary interpretation of the Carmelite classics.
For more than fifty years Sr. Constance has devoted her intellectual life to the explication and interpretation of the writings of the great Carmelite mystics, with a special predilection for Saint John of the Cross.  She is best known for her classic essay, "Impasse and Dark Night," first published in 1984 (Harper and Row) where she looked at the traditional understanding of dark night spirituality through the lens of impasse and applied it not only to personal growth in prayer but also to one's relational life, the development of society and culture, and the feminist experience of God. This original insight has provided theologians, religious communities and spiritual seekers with a valuable hermeneutical key for engaging the multiple impasses we face today.  In 2009, she addressed the Catholic Theological Society of America with a follow-up presentation, "From Impasse to Prophetic Hope: Crisis of Memory."  She was the first contemplative nun in the U.S. to be so honored.  In her writings and lectures, Sister Constance has consistently worked to show the relationship between contemplative prayer and the evolution of consciousness.
Sr. Constance's publications include "A Discipleship of Equals: Voices from the Tradition, Teresa of Avila and John of the Cross,"  "Transformation in Wisdom: the Subversive Character and Educative Power of Sophia in Contemplation," "The Passion of the Carmelite Tradition: Edith Stein,"  "The Mission of Therese of Lisieux," and The Carmelite Adventure: Journal of a Trip to America.  Her audio CDs and DVDs from the Carmelite Forum's summer seminars are available.