The website of the Carmelite Institute of North America is a place to find and contribute to the contemporary interpretation of Carmelite spirituality, and to find inspiration for the journey toward intimacy with God in prayer. It is intended as a collaborative medium for engaging Carmelites and the wider public in the interpretation and application of our Carmelite charism to contemporary times and daily life.
We have a great treasure in our Sisters and Brothers who have gone ahead of us in the footsteps of Jesus Christ and left us and the world a rich legacy illuminating a mystical path that has guided countless men and women through their lives to the destiny to which God calls us all. This project is intended to give water to all who thirst for a spirituality relevant to their times and lives.
Thank you for finding our website, for in doing so, you are welcomed to our Carmelite community. We are so grateful you are here. As you already know,  or are just finding out, the Carmelite Institute provides quality online programs, as well as in-person gatherings throughout North America. We cannot exist without your participation and your advocacy.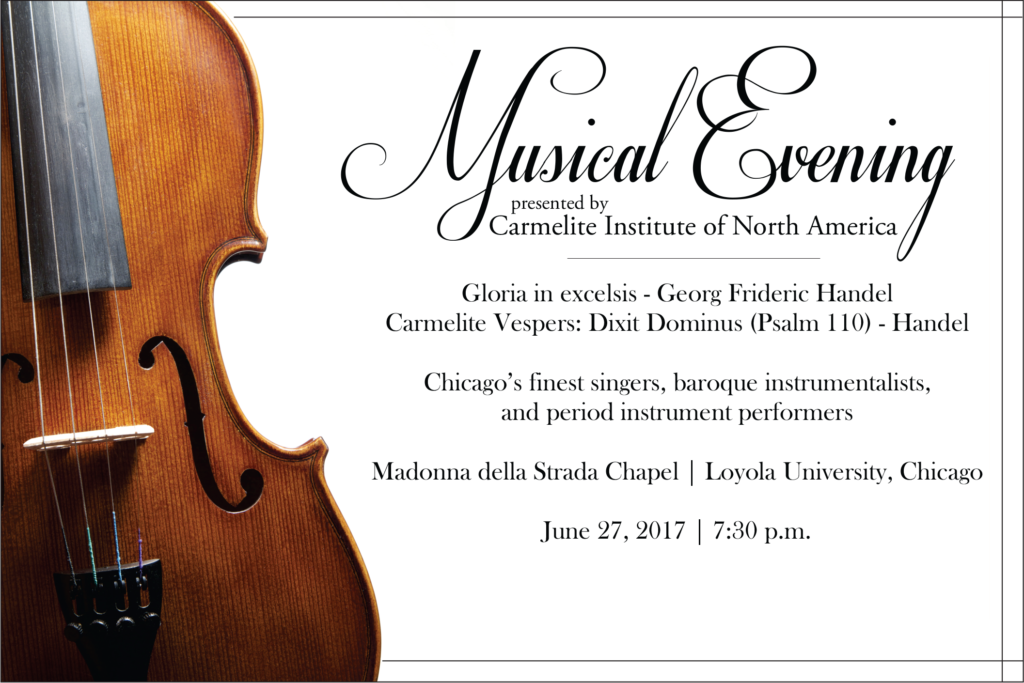 2017 Symposium Music Donation
Musical Evening of Carmelite Vespers composed by Georg Frideric Handel. This evening will be a highlight of our 2017 Symposium in Chicago and will be performed by some of Chicago's finest musicians.
Are you in the Chicago area? - Please join us as we present this Musical Evening featuring some of Chicago's great musicians for a donation of $20 at the door.
If you are not in the Chicago area, please help us with a donation enabling us to record this Musical Evening to be make it available on our website.
Your gift not only will fund this remarkable program, it will show us how much you care about our community.  Your gift, small or large,  will go along way to help us reach this goal.